Peripatetic Tomato Paste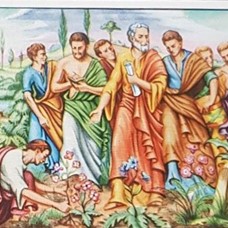 Promote Liebig's Tomato Paste and Meat Extract by illustrating Aristotle's scientific endeavours. These advertising cards were inserted inside packets of cigarettes. The company was named after the famous German scientist Justus von Liebig, who invented stock cubes, and whose portrait appears in the bottom right--hand corner.

Although the tomato was not introduced to Europe until the early 16th century, the illustrator of the series "Ancient Intellectuals" (1958) imagines Aristotle and Theophrastus discussing the plant with their Peripatetic students in the grounds of the Lyceum. They were interested in botany, so the scenario is semi-plausible. The other card is from the earlier series "Celebrated Astronomers" (1921), in which the artist imagines Aristotle teaching astronomy to the young Alexander; here the link between the scene and the product, extract of meat, is rather less obvious.

---