Aristotle and the Eyes of Lady Logic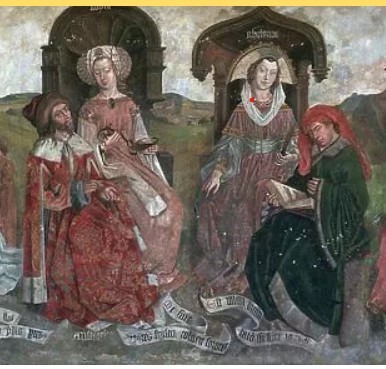 See Aristotle gazing into Lady Logic's eyes on the famous "Liberal Arts" fresco in the Cathedral of Notre Dame in Le Puy-en-Velay in Auvergne. Aristotle was the first to codify the rules of formal logic; his Organon or compilation of logical works was central to the medieval curriculum celebrated in this late 15th-century artwork. Alongside him sits Cicero, chosen accomplice of Lady Rhetoric.

Flanking Aristotle are Priscian, the prolific 6th-century Latin grammarian and Virgil scholar, whose 18-volume "Institutiones Ggrammaticae" was also a standard feature of the medieval school curriculum. Music is attended by Tubal, also known as Jobal, "the father of all such as handle the harp and the organ" (Genesis 4:21-22), said to have invented music even before the Flood.

The details of Aristotle and Logic are clearer in this 19th-century monochrome engraving; why Logic is holding a scorpion and a salamander has not been fully explained.
---