Aristotle in the Bin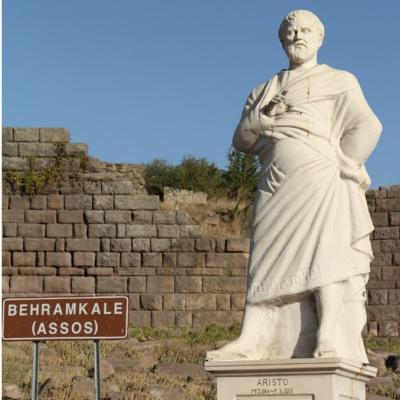 Feel nostalgia for the statue of Aristotle which used to stand in Assos, the ancient Greek city on the coast of the Troad where he worked for two years in his late thirties after leaving Plato's Academy. He was invited by Hermias of Atarneus, a fellow student of Plato, who ruled Assos, the Troad and Lesbos. Aristotle taught philosophy at Assos and helped reform the city-state's constitution.

He will have been reminded of Athens by the spectacular Doric temple of Athena on the citadel's summit. But he would have been less impressed by the removal of his statue under a state-wide effort by the Turkish authorities, who are encouraging increasingly strict Muslim practices, both to remove "graven images" from public spaces and to erase or minimise the historic presence of Greeks and their civilisation across modern Turkey. When Edith Hall visited in 2016, the statue base was functioning as a rubbish bin.
---