Aristotle's Bladder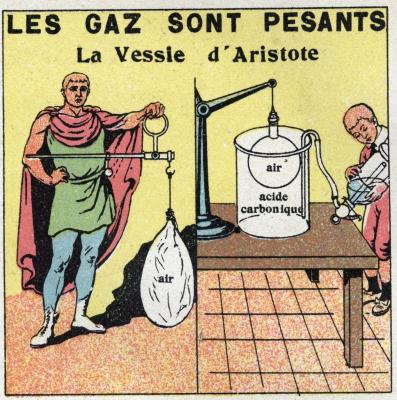 Get bladdered with Aristotle. An anonymous French educational tinted engraving from 1925, perhaps designed for a schoolroom wall, compares Aristotle's experiment from which he deduced that air had weight with a modern boy proving the same in a laboratory class. The caption reads "The gases are heavy: the bladder of Aristotle".

The artist took inspiration from Aristotle's De Caelo [On the Heavens] Book IV.4:

"Earth, then, and bodies in which earth preponderates, must needs have weight everywhere, while water is heavy anywhere but in earth, and air is heavy when not in water or earth. In its own place each of these bodies has weight excepting fire, even air. Of this we have evidence in the fact that a bladder when inflated weighs more than when empty".
---